Read  August 2017 Recommended for fans of urban fantasy looking for a new take ★    ★    ★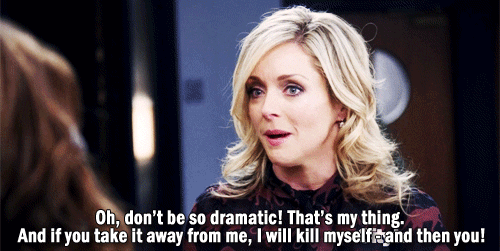 One of my friends once called me 'The Anti-Drama.' It was one of those moments of startling clarity, when one thinks, 'wow; that could be the truest thing I've heard.' I've found myself shying away from people that seem to enjoy confrontations, outbursts, reversals, confessions, and living life on a roller-coaster of emotion. All of this is to explain that it isn't Mishell Baker's book as much as it is her protagonist, Millie, of the borderline personality disorder and recent suicide attempt, that prevented me from enjoying Borderline.
Well, maybe the writing has something to do with it. Baker drops us into Millie's world without background, almost exactly like meeting a new person in real life. We don't know her childhood, although there's clues dropped that her mother was absent and her father abusive/distant. We learn she was a prodigy in the film world, with a shot at winning Sundance, but have very little of the in between. These hints come about as she talks with other people, or as she thinks about her coping skills. The advantage to this is avoiding awkward explanatory backstory; however, it does little to mitigate the perception of impulsive, selfish behavior. Millie's own habit of stating 'borderlines do this…' and 'of course, mood swings are borderline…' etc. contributed to the outsider effect.
Equally difficult was her inability to demonstrate compassion or softness with others. She seemed to value other people in terms of usefulness or in response to sudden affection (characteristic of borderline, of course, not just your average 20 year old who recently left an isolated environment). She has little empathy for their own struggles, even after learning everyone at the house that serious issues. For me, it was a barrier to connecting Millie as she continually sabotaged her moments of possible connection and success. On the plus side, there were a couple of moments where she was able to coach herself through ('borderline,' of course) situations (because who else over-reacts?). It ended up not really being enough to connect with her, or actually care particularly when she was so quick to abandon the group (again, 'borderline,' not an impulsive young person). It was a little like watching a mouse run a maze. Would she navigate it? Did I care?
The setting was a split-world fairyland/real world set-up, centered in Los Angeles, California, movieland. Baker's spin on the two worlds is that many people have an emotional fae twin on the other side, and allowing the human and fae to meet would allow the human to express new heights of artistry. The plotting focused equally on Millie's development in this new world and a missing Fae.
My last mental association is unfortunate, because I never really cared for Madonna. I'm sure younger readers won't have this problem.
I read this with somewhat high expectations, after GR buzz, knowing it won a World Fantasy Award and it's (shocking) Nebula Award nomination, and a very enthusiastic podcast where someone called it the 'best urban fantasy I've ever read.'
I'd like to introduce him to Kate Griffin.